8 Fast-Growing Plants to Add Shade and Privacy
Need a little privacy in your yard? While you can always install a fence to divide your garden into different sections, there are so many options that you can explore when it comes to adding privacy in your outdoor space. Easily one of the best and most aesthetically pleasing ways of doing so involves planting fast-growing shrubs or tall plants to section off parts of the garden from prying eyes!
Thankfully, many varieties of shrubs, trailing plants, trees, and vines work great as a natural screen. Not only do these plants add shade and beauty to your outdoor space, they require minimal care too. Just make sure to prune the plants on a regular basis to maintain the shape of your living wall. Here are some of our favorite plants that will enhance your garden's privacy: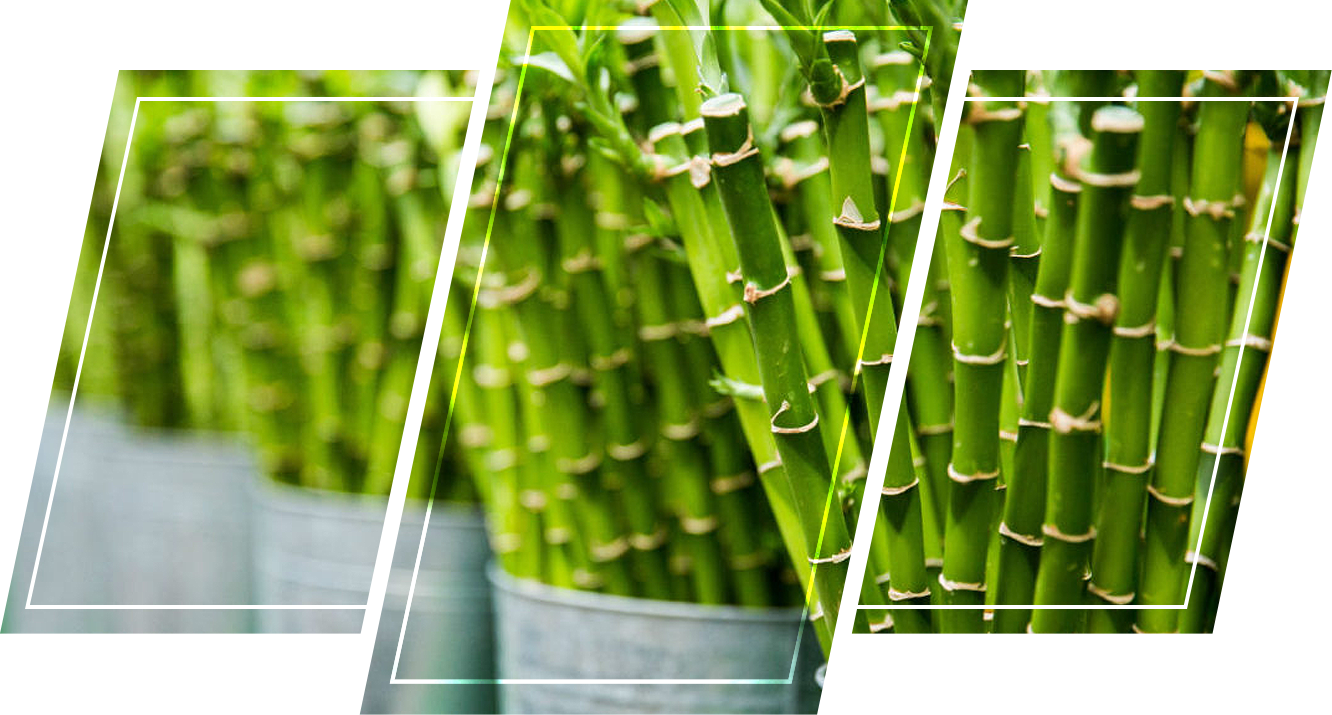 Lucky Bamboo
Lucky bamboo is the quintessential privacy plant. It's easy to grow, it spreads like weeds, and it enhances the look of your outdoor space. This plant comes in many varieties and each one has different growth habits. Some are slow to grow; others will take over your yard in no time at all so choose wisely. The right bamboo variety adds height and lushness to the outdoor space, which makes it perfect for contemporary landscapes.
Our advice is to go for the clumping, non-spreading kind so the plant is much easier to control, like Fargesia bamboo. Do note, however, that bamboo is a member of the grass family. This means the plant requires fertilizers enriched with extra nitrogen. Use organic fertilizers if possible.
Arborvitae
Arborvitae is one of the most popular privacy plants because it grows a dense foliage that keeps prying eyes away. The key to making an effective natural screen using arborvitae is to space out each plant properly. The right spacing creates a thick hedge that acts as a living wall. You can also prune its dense foliage to create different shapes.
Arborvitaes are typically deep green in color but some varieties turn a beautiful golden yellow during the fall and winter season. If you want to add a little color to your yard, you can opt for the color-changing variety. Arborvitae grows tall although it is a slow growing tree. This evergreen tree is quite tolerant of the cold. However, arborvitae is a thirsty plant so water deeply during the dry season.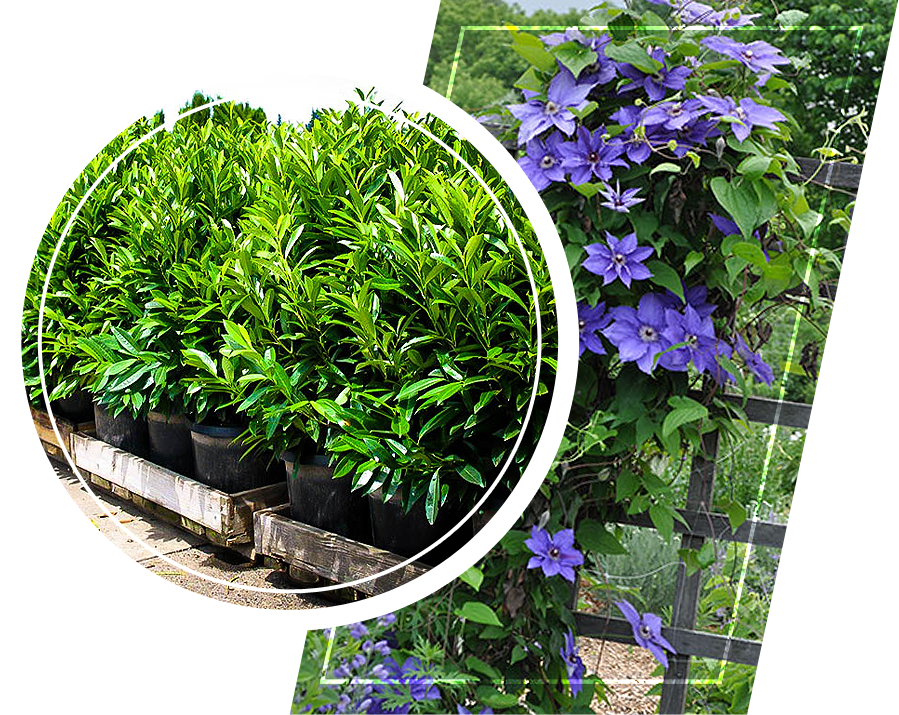 Skip Laurel
Skip laurel is a type of evergreen shrub that works great as a hedge or as a natural screen. This plant could grow to about 18 feet or so although it's easy to trim. Skip laurel is known for its extremely dense, thick foliage. It's a hardy plant that thrives in a hot, dry or cold climate. This plant could also tolerate dry or nutrient-deficient soils.
Skip laurel grows to two feet each year so trim this plant regularly to keep its foliage under control. This plant is as tough as they come so you can either prune ruthlessly or gently, skip laurel will thrive regardless. This is the kind of privacy plant that's thick enough to hide an ugly view. However, it's mostly used to section off certain parts of the yard.
Clematis
Clematis is a crawling plant that will work beautifully as a privacy plant. This perennial vine is best known for its eye-catching, large blossoms that could frame any outdoor space perfectly. As a statement-making privacy plant, Clematis could section off small parts of the garden with its bell-shaped blooms and thick foliage.
What's more, Clematis blossoms add a lovely scent to the air, making an intimate space look and feel even more relaxing. Clematis is slow to mature so you have to be patient before the plant achieves its full effect. If you are growing Clematis, know that most varieties prefer cool roots. This plant is best grown at the base of another plant for shade.
Climbing Roses
What pretty screening climbing roses make! These flowering plants add a touch of beauty and romance to any outdoor setting. You can plant climbing roses over fences, walls, gazebos, or pergolas and the results will turn out amazing each time. Climbing roses come in an array of colors too so you can experiment with different varieties to give your outdoor space a dose of color. However, the pink climbing rose is the most popular.
Climbing roses may bloom once every season although some varieties could produce blooms throughout the rest of the growing season albeit sporadically. To encourage the climbing roses to yield more blossoms, deadhead the flowers and gently prune before the initial bloom.
Boxwood
Boxwood is often seen in traditional and formal gardens. As a quintessential privacy plant, boxwood is known for its compact, glossy leaves that add a touch of elegance and mystery to any garden space. Just like arborvitae, boxwood could be pruned into different shapes thanks to its dense branches.
Boxwood is a fairly forgiving plant. It doesn't require much coddling to thrive in poor growing environments. Boxwood is so low maintenance too, it does not require frequent pruning. It can maintain its shape for a long time, needing only an annual trim late in the winter season. Once established, boxwood doesn't require frequent watering either. In fact, boxwood is one of the few privacy plants that could handle drought with ease.
Privet
Known for its dark green, lustrous leaves, privet is a great choice as a living fence or a hedge. Depending on where you live and the variety you chose, privet could be evergreen, semi-evergreen, or deciduous. But if you want to attract bees and other friendly garden critters, we highly suggest using privet as a living screen.
This plant will produce small clusters of blossoms that add fragrance to the air while also luring bees into your outdoor space. Do note, however, that this shrub is so easy to grow because it's an invasive plant. Careful pruning and training are needed to establish privets into sturdy hedges. That said, frequent pruning means the privets will produce fewer blooms because the flowering buds are cut along with the growing stems.
Japanese Holly
Japanese Holly is a dense evergreen known for its green, leathery leaves and black, berry-like fruits. This slow growing evergreen could reach 6 to 10 feet and it makes for a great natural screen. This plant is often grown as a houseplant but it thrives best in an outdoor setting in full shade.
Japanese Holly loves moist but never soggy soil that is rich in organic matter. This plant is surprisingly hardy in mild winters but the foliage could turn brown during the winter season. Used as a natural screen, Japanese holly adds contrast and glorious texture to your garden space.