8 Tips to Style Your Home with Succulents
Succulents make the perfect plants for new gardeners. These plants are not only beautiful to look at; they are also tough as nails. Even the brownest of thumbs will have a hard time killing succulents, they are that hardy. Also, we've got a few gardening tips in case you need more help!
Succulents are low maintenance plants that thrive in dry environments. Contrary to popular notion, these plants do not need full sunlight. In fact, extended exposure to direct sunlight could burn the succulents. These plants prefer bright, indirect sunlight so they will do well in indoor settings.
Since succulents have such a unique look to them, they make fabulous décor pieces. Decorating with succulents is not only an affordable way of refreshing tired spaces; these plants add a pop of color to bland interiors. Thankfully, succulents are so easy to incorporate in the home! Want to add a pop of green to your interiors? Try any of these gardening tips and decorating ideas we love: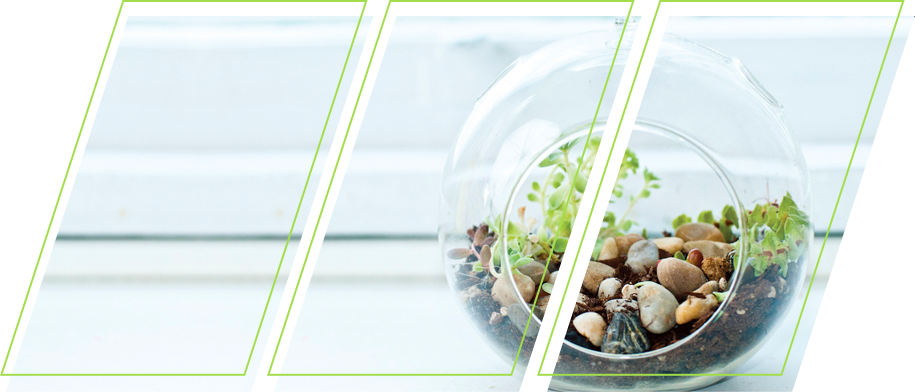 Terrariums are a versatile décor! Most are small enough to fit the tiniest of living spaces and easy enough for newbie hobbyists to make. You can set a terrarium or two on any blank counter and add life to your interiors almost instantly. The best part? Terrariums are so beautiful yet easy to maintain. They're the perfect living décor for busy city folks!
To make your own terrarium, just choose a container, perhaps a clear open-top cylinder or a dome-shaped glass jar. Spread a layer of gravel on the bottom of the container then a layer of charcoal over it.
Spread a nice layer of potting soil then start planting the succulents in an eye-catching arrangement. Finish up with a layer of white pebbles or moss and that's it. Give your terrarium a spritz of water once a week or if the soil is too dry.
Vertical Succulent Garden
Who says you need a massive yard to create a lush oasis? If you live in a rental then space will always be an issue. But don't let the lack of space keep you from enjoying a beautiful garden, make the most out of any vertical space with a vertical garden.
Use succulents to create a show stopping yet easy to maintain garden you'd be proud to show off. The best part? You can set your vertical garden indoors or outdoors.
You can use wood pallets to hang pots of succulents or mountable planters to hang your favorite plants on a wall. You can either make or buy hanging baskets to hang your planters from the ceiling. If you want to hang several pots of succulents on a wall, try making your own trellis using chicken wire. Really, there are so many ways of hanging succulents (and other houseplants) to dress up blank spaces.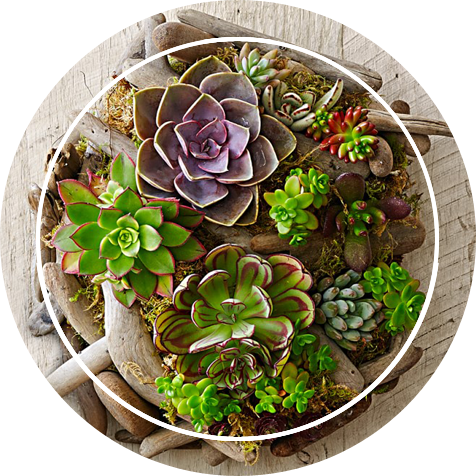 Did you know that you could turn your succulent collection into striking pieces of art? Instead of framing a picture, try framing a succulent garden, it's easy! You can either get a pre-assembled frame or make one using chicken wire, an old picture frame and a shadow box (here's a great tutorial to try).
Once you're done making these gorgeous living artworks, prop them on a wall, set them on a table or hang a couple on a blank wall. To water the succulents, you have to lay the frame flat on a table and spritz water on the roots. Leave the soil to dry first before putting the framed succulents back on display.
Making a dish garden is a great way to decorate with succulents while showcasing your creativity! Succulents have a shallow root system so planting them in a shallow container like a dish or bowl is not a problem at all.
Just choose a sizable decorative dish, add a layer of gravel or small pebbles on the bottom of the container. The pebbles will drain the water away from the roots and prevent rot.
Then, add a layer of potting soil on top of the gravel layer. Plant and arrange the succulents, starting with the smallest plants to the medium-sized plants. Cover the succulents' roots with more potting soil then sprinkle a layer of pebbles on top of the potting soil. Add a couple of tiny decors if you like.
Don't water the succulents after repotting them to give them time to get used to the new soil. Check the dryness of the soil, if it's dry enough, water the succulents lightly. Now your dish garden is complete, you can set it indoors or outdoors.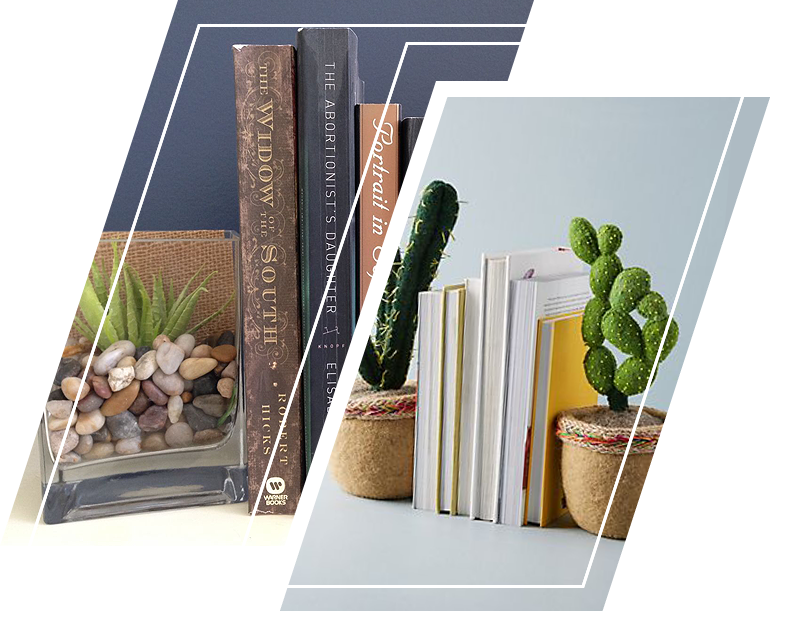 Here is a simple way of adding pops of green into your home: set a couple of potted succulents at the ends of your book display. This trick will breathe life back to your book collection! Just pick a couple of succulents to de-pot at home.
Prepare two pairs of glass cylinder vases; two should be small enough to fit the inside of the other vases with a few inches of space to spare. Put the smaller vase inside the larger vase and fill the gaps with smooth pebbles.
Fill the smaller vase with potting soil, plant the succulents and cover the base of the plants with small pebbles. Pop each vase at the end of your book display and voila, you have living bookends!
Hanging Succulent Arrangement
This is a great centerpiece for defining any room in the home. Just prepare a mountable tray or a decorative pot, threads, scented candles of your choice and of course, the succulents. Re-pot the succulents in the tray or decorative pot then finish up by setting the scented candles in the middle of the arrangement.
Hang the planter using the threads. If the tray or decorative planter does not have holes for the thread, drill a hole on either side of the container. Hang the succulent arrangement in a semi-shaded spot.
Dress up your coffee table, dining table, or your console table with a living centerpiece that'll wow guests! Making a succulent centerpiece is so easy, anyone can do it. Choose a decorative dish, one that has enough room for several succulents. If the decorative dish doesn't have drain holes at the bottom, drill a couple of holes.
Fill the bottom of the container with a thin layer of gravel then top this layer with potting soil. Plant and arrange the succulents then finish up with another layer of white pebbles on top. Now your succulent centerpiece is ready to become the focal point of the room!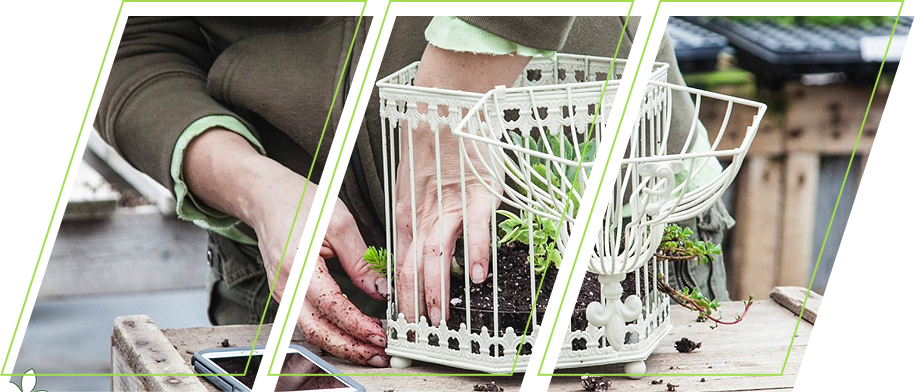 Birdcage Succulent Planter
Put your old, unused birdcage to good use by turning it into a unique succulent planter. Get a coconut liner that would fit inside the birdcage. If the liner is a little big or deep, trim it using a pair of scissors to create a shallow nest.
Fill the coconut liner halfway through with potting soil that's blended specifically for proper drainage. Plant the succulents in a fabulous arrangement and finish up with a layer of white pebbles on top of the potting soil. Hang the birdcage planter in a semi-shaded spot and you're done.
Found these decorating and gardening tips helpful? Sign up for our newsletter to enjoy more gardening resources plus amazing discounts on selected products!