Gardening Tips: 10 Amazing Ways to Repurpose Old Garden Tools
If you love gardening as much as we do then you probably have piles of unused, broken and rusting gardening tools gathering dust in storage. Give your rusty, unused gardening tools a new lease on life by repurposing them into something special. You can turn these tools into unique decors or give them a new purpose! By repurposing old gardening tools, you can reduce your household waste while also declutter your living spaces. Think of all the space you can save by making old garden tools feel new again! Try these gardening tips and ideas to get started: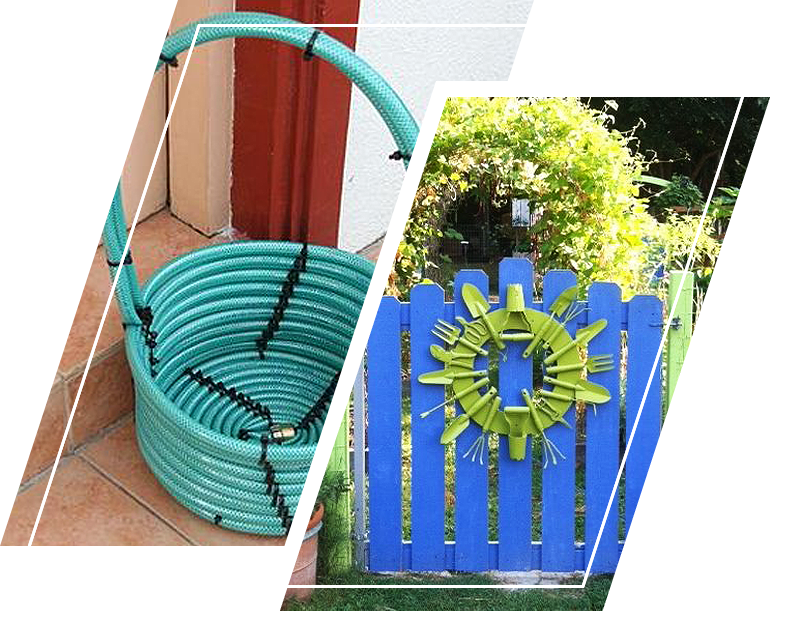 Old Rakes into Space Organizers
Who knew that your old rake could be utilized in so many ways? For space-strapped gardeners, you can turn your old rake into a garden tool rack. The rake's many spikes can be used to hang a variety of handheld tools. You'd be amazed at how many objects a single rake could hold.
 
Using a saw, cut the handle of the rake but leave about 2 inches of the wooden handle. Get your drill and drill a hole on one side of the wooden handle going through the other side. Loop a rope into the drilled hole, cut the rope to the desired length then tie the ends into a knot. Now hang your tool rack on the wall.
You can also transform your old rake into a rustic wine glass holder. Again, just cut the handle but leave about 2 inches of the wooden handle. Drill a hole through the sides then loop a rope into the drilled hole. Tie the rope ends into a knot and hang the rake atop your wine rack. Use the spikes to hold several wine glasses. Not a fan of wine? Use the rake as an accessory holder instead!
Wheelbarrow into Wagon Planters
This is an old-timey gardening tip but it still works. The wheelbarrow planter could be a focal point of the garden or just an accent that'll enhance the look of your garden. Just give your rickety wheelbarrow a good dusting to get started. Set it on a spot that draws the eyes naturally. Load the wheelbarrow with a layer of pebbles then a thick layer of potting soil. Plant your favorite flowering plants, trailing plants, or herbs. Frame your wagon planter with potted plants, set a couple near it and you're done.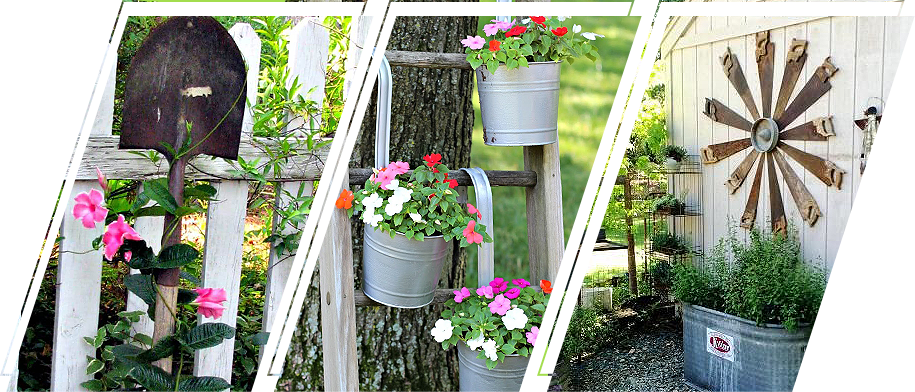 Another project worth trying involves transforming an aging wheelbarrow into a portable fire pit. So when the summer season comes around, you can invite friends over for a barbeque! There's nothing to it, just clean the wheelbarrow. Lay several cinder blocks on the wheelbarrow then cover with kindling and wood scraps. Pop a grill stand on top of the kindling and you are ready for your next garden party!
Garden Shovel into a Birdhouse
Here is yet another unique idea if you have shovels that you no longer use, transform these into birdhouses. This idea is also suitable for old rakes and other garden tools with a long wooden handle. Just cut the rounded top of the wood handle so the birdhouse has a flat base to sit on. Drill a hole through the cut handle top, attach a small piece of wood with screws, and then attach the house to the small piece of wood. To put your DIY birdhouse on display, just push the shovel into the ground.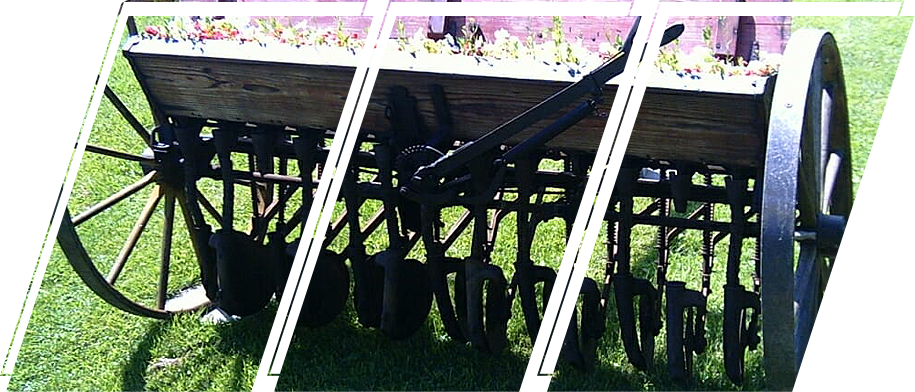 Long Handle Garden Tools as Trellis
If you already have several birdhouses in the garden, you can turn an old shovel into a makeshift trellis instead. Again, this idea is suitable for any garden tool with a long handle. Just bury the shovel's handle into the ground and make sure it will not topple over. Cover the soil with large, smooth rocks and then start guiding your climbing plants or vines to the shovel's handle. The climbing plants will do the rest.
 
Another variation of this idea involves placing three long handle tools to make a tipi trellis. To do this, make a hole in the ground, the hole should be big enough to fit the long handles of the tools. Bury the long handles partially into the ground. Bunch the tops of the tools, metal heads up, to form a structure similar to a tent pole's frame. Set the tools in place by wrapping a long piece of metal wire. This way, the trellis won't move around when it's windy. Guide your climbing plants to the trellis and you're done.
Handheld Garden Tools as Drawer Knobs
If you are wondering how to repurpose your handheld gardening tools, try this nifty trick: use them as cabinet knobs. This is a fun project that will keep you busy on the weekend. Start by giving your old handheld tools a fresh coat of paint. We recommend bright shades if your cabinets are in neutral colors. Once the paint has dried completely, remove the drawer's regular pulls and knobs. Attach each gardening tool to the drawer using a power drill and a couple of screws. This idea also works for potting benches and other utility pieces that need a quick makeover!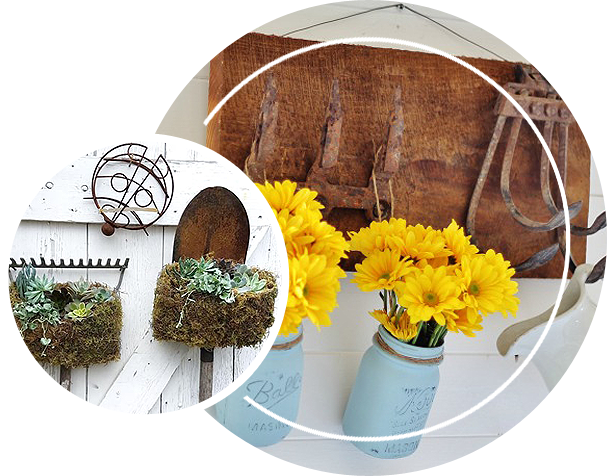 Faucet Knobs as Rustic Vanity Pulls
A variation of the idea above involves using old faucet knobs as vanity pulls. The look is quite rustic so this is a perfect project for homes with cottage-style or classic interiors. To start, remove your vanity's old knobs. Most knobs are attached with screws so just remove your vanity's knobs by unscrewing each one. Then, insert a threaded bolt through an old faucet knob and then pop this into the old knob's place. Set the faucet knob in place with a nut using a wrench. Repeat until all the vanity knobs are replaced with the faucet knobs and you're done.
Trowel Heads as Bird Feeders
This repurposing idea only works for trowel heads that are not too rusty. You do not want the friendly garden birds to ingest bits of rust. To start, remove the trowel's handle. Most trowel handles are secured with screws or clamped into the metal base so check your trowels to figure out how to remove the handle. Once the handle is removed, you want to fold the back of the trowel head to form a flat base. This allows you to stick the trowel heads vertically. Using screws, attach the trowel heads on a flat wooden surface. Set the makeshift feeder in a spot that attracts a lot of birds, add a generous helping of bird seeds and you're done.
Shovel Heads as Planter Holders
If you have a small garden and you need to use your vertical space to put more potted plants on display, try this idea: use shovel heads as a planter holder. Just remove the shovels' long handles all the way from the base. Attach the shovelheads on a pole using a power drill, long threaded bolts, and screws. Make sure the shovel heads are spaced out so the plants have enough room to grow. Once the shovel heads are attached firmly on a pole, you can start putting your potted plants on display.
Watering Can as a Planter
This is such an easy DIY that requires old watering cans you have lying around somewhere in your garden. Just drill holes at the bottom of the watering can using a drill or a nail and hammer. Fill the bottom of the watering can with gravel or pebbles then cover this layer with potting soil. Plant your choice of herb or flowering plant and finish up with a layer of small rocks. Your new planter is done and ready for display. If the watering can is big enough, you can plant several plants in a single watering can.

BONUS TIP: Shovel Handle Display Tray
We're not done yet, we've got a bonus gardening tip for you! If you have a thing for rustic outdoor decors then do not miss this repurposing idea. This project requires a small scalloped edge farm tray and an old shovel.
Essentially, you'll just attach the cut shovel handle in the middle of the farm tray using a nut and a bolt. That's all there is to it. You can use this decorative tray to put potted plants on display, such as cacti and succulents. You can also use the tray as an accessories organizer. Pretty nifty, right?
Found these gardening tips useful? We've got more coming your way so stick around. Sign up for our newsletter to get the latest gardening tips and other eco-friendly resources. By signing up for our newsletter today, you will enjoy unbelievable savings on our bestselling products.