10 Gardening Tips for Your Patio and Balcony
As we've said before, you don't need a massive yard to build a beautiful garden. Even the tiniest sliver of space can be turned into a green paradise; you just have to be creative in terms of finding room for your precious plants.
As long as you've chosen the perfect plants that suit your zone and microclimate, any blank space for these plants will do, even a petite patio or a tiny balcony. If you've always dreamed of tending your own urban garden, try these gardening tips and ideas: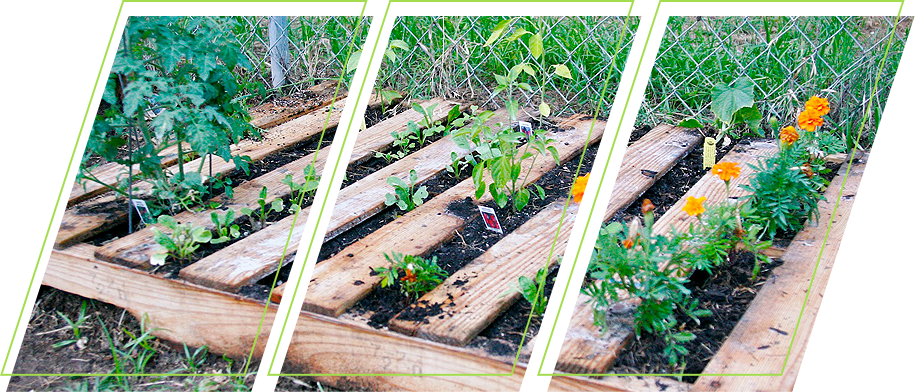 A pallet garden is a great solution for narrow balconies or patios with little room to spare. The great thing about building a pallet garden is that you are utilizing unused space in your home while also reusing old wood that's been gathering dust in the shed.
The heart of this garden is, of course, the pallet planter, a plant container that can be mounted to the wall. If you don't want to hammer holes into your rental, you can simply lean the pallet planter against the wall and wedge something at the bottom to set it in place.
You can either buy the pallet planter from your local hardware store or make your own using all the wooden planks you have in storage. Here's a great tutorial to get you started. After planting all the plants in the pallet planter, finish up with a couple of potted plants to give your garden a layered look.
Herbs make the perfect garden plants for urban dwellers because these plants take little room and are quite easy to grow. The best part? You'll have plenty of fresh herbs to use for cooking! Since herbs are petite plants, you can turn everyday items such as wine boxes into planters. Using wine boxes is a great way to add a vintage appeal to your home while recycling unused containers so they don't end up being trash.
To build your own wine box herb garden, plant your choice of herbs in small cans or pots. If you're using cans as planters, don't forget to drill holes at the bottom of the cans for drainage. Stick a little label into each can as decoration then place all the planters in the wine box. That's all there is to it. Easy, right?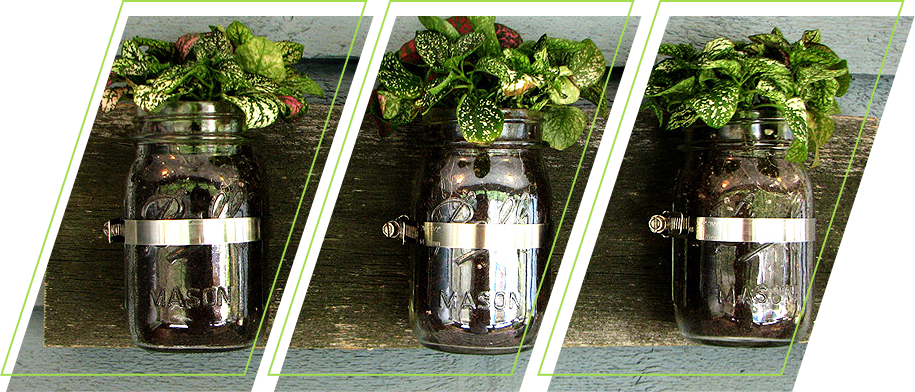 If you have many canning jars gathering dust in your kitchen cabinet, here's a great way to make good use of these containers: turn them into wall-mountable planters. Using an electric drill and several screws, attach three or more metal clamps into a wood plank.
Plant your choice of herbs or houseplants into the jars. Fasten each jar planter in the metal clamp using a screwdriver. Screw the board on a blank wall and your mason jar wall garden is complete.
Did you know that your balcony railing could hold several planters? That's right, you can grow a full garden using the balcony railing alone. You just need special planters that can be cut into shape to fit the railing of your balcony. You can also get balcony rail planters online.
Using the planters, plant your choice of houseplants. We recommend trailing plants because they look so good spilling over the balcony railing. Set the planters in place by tying them, using brackets, or attaching screws and you're balcony railing garden is done.
This is a great solution for apartments with zero outdoor space. You can use your windows to hang special types of planters and grow a variety of flowering plants, herbs, you name it. If you have the skills, you can make the mountable plant boxes on your own or you could get them online.
All there is to do is to set or attach the plant boxes at the bottom of the windows, just choose a sunny spot if the plants you have crave the full sun. Add the potting soil, plant the flowering plants, herbs, or trailing plants, and you're done. By the spring season, your window garden will turn into a glorious display of colors that will impress onlookers.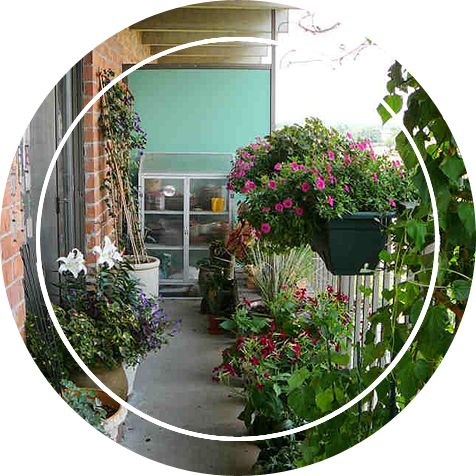 Vines and climbing plants will look good in small spaces too. You can fit several climbing plants into a small patio or a balcony using a trellis. Now, if drilling holes or attaching any type of structure is banned in your rental, here's a nifty solution: make your own trellis.
Just attach the poles directly into the back of the planters and leave the climbing to your favorite vines and trailing plants. Just make sure the poles are secure and stable so they won't break against the weight of the climbing plants at some point. Place your DIY trellis against the balcony wall and start your garden from there.
Italian-Style Balcony Garden
For the lucky few who have more room in their balcony for a garden, we highly recommend adopting a classic Italian gardening style. The design involves setting small pots of plants on the inside of the balcony floor and then hanging window boxes or hanging planters full of flowering plants. Layering the plants gives your garden set up the lushest look. And wait until the colorful flowers come in full bloom, the explosion of colors is just magical!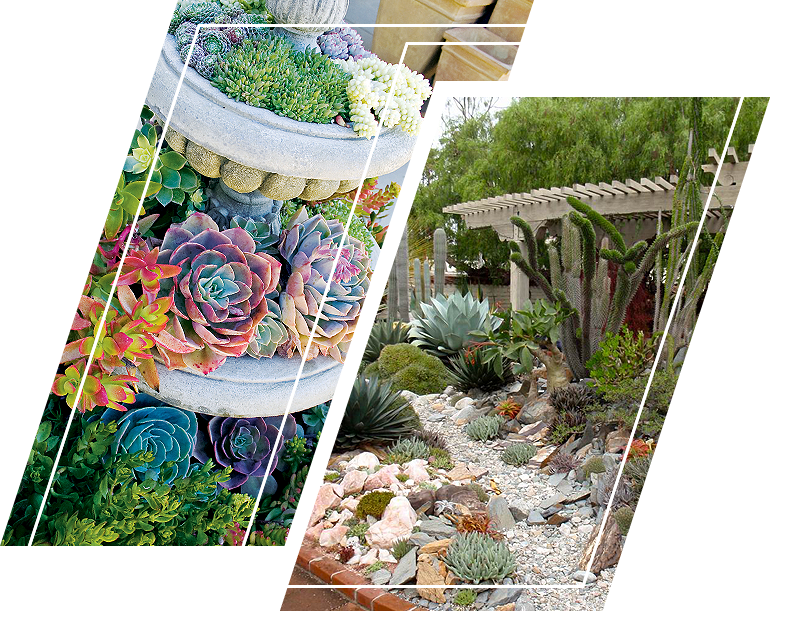 Succulents make the perfect houseplants for new gardeners. These plants require minimal maintenance and they thrive in poor soil conditions. The best part? Just like herbs, succulents need only a small space to grow. They won't take over the whole balcony or patio!
You can re-pot a variety of succulents in a large dish to start your succulent garden. You can also grow the succulents in vertical planters if you have less room for a garden. You can also plant different succulent varieties in one massive, multi-tiered planter and call it a day.
If space is an issue, try growing plants, including veggies and herbs, in small containers. A container garden is a terrific way of utilizing small spaces while also putting a gorgeous flower or vegetable garden on display! This gardening style is also perfect for reusing containers that you no longer need, such as extra canning jars, metal tubs, buckets, pots, pans, and tins!
Since each plant is grown in a contained space, weeds will not find their way into the pots. Building a container garden is easy because it does not require heavy equipment. What's more, you can plant a variety of plants, including seasonal and rare greeneries.
To build your own container garden, re-pot your choice of flowering plants, vegetables, or herbs in small containers. Set the potted plants in a nice arrangement and then put these on display on your patio, deck, balcony, even the windowsill.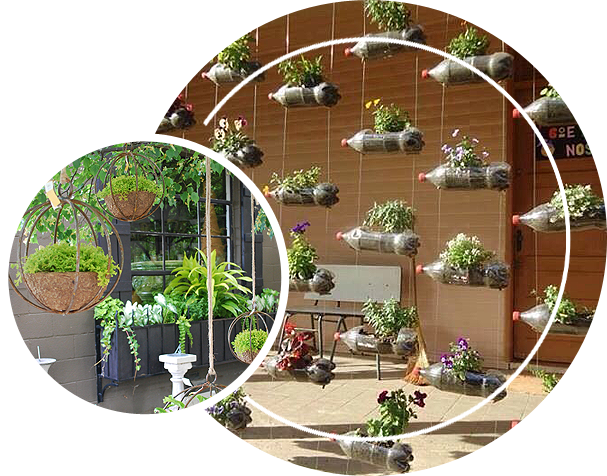 Got zero floor space to spare for a garden? Try hanging your favorite plants! A hanging garden is a great setup for rentals or homes with limited floor space. This arrangement requires mountable planters or hanging pots that you can get at any garden supply store. You can add different plant varieties to your hanging garden but we recommend trailing plants to give your living space a look of lushness!
While a sizable yard is great to have when building a garden, there is no reason why you shouldn't experience the joys of gardening even if you have little room to spare. These gardening tips and solutions will work in the tiniest of balconies so give any of them a try!
For more gardening tips and resources, sign up for our newsletter. You can also take advantage of amazing discounts on our bestselling products if you sign up now!