Gardening Tips and Ideas for Small Spaces
A modest space should not keep you from living out your dream as a gardener! Regardless if you live in a rental or you have no yard at all, it is possible to build a beautiful garden that will give you years of enjoyment. You just have to find creative ways of utilizing any available space you have! Here are some of our favorite gardening tips and ideas for small spaces:
Go Vertical
You can turn a blank wall into a lush flower garden by building a vertical garden. This trick is perfect for homes with limited floor space. All you need for this project is a pallet planter, landscape fabric, plastic sheeting, staple gun and staples, potting soil, and your choice of plant varieties. If you have lots of unused wood plants gathering dust in the shed, you can use those to build your own pallet planter. It's easy.
After building the pallet planter, attach the landscape fabric and plastic sheeting using the staple gun and staples. Fill the planter with potting soil and you are ready to plant your favorite greeneries. Pop the finished planter on the wall and your vertical garden is complete.
Grow a Succulents and Cacti Garden
Some of the best plant varieties to grow in an urban space are succulents and cacti. These plants love dry, semi-sunny spots and they do not need frequent watering. The best part? Most succulents and cacti are small so they are space-efficient even when grouped together in a dish.

Building a succulents and cacti garden is easy; you can start with a couple of plants and then grow your collection from there. These plants are perfectly happy indoors or outdoors so you can set your garden in your balcony/patio or in a sunny spot inside the home.

One thing to keep in mind though, do not set the garden in a place that gets direct sunlight. The succulents will burn. Also, limit the watering to once a week or only when the soil is dry to avoid overwatering.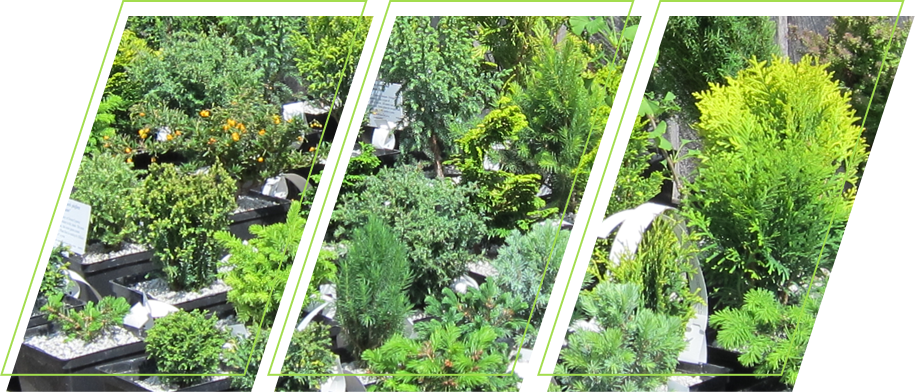 Plant Dwarf Plant Varieties
Whatever garden you want, a petite flower, fruit, or vegetable garden, etc., opting for dwarf plant varieties helps maximize what little space you are working on.
Unlike their full-sized counterparts, dwarf plant varieties will not take up too much space. They are the perfect plants to grow in a small yard or even a rooftop deck. Dwarf plant breeds are much easier to maintain since they are much closer to the ground.
Use Hanging Planters
Hanging planters are a godsend for people who want to build a garden but have zero floor space to spare. With hanging planters, you can turn blank spaces into a garden. You can even hang the planters in your balcony railings, windows, etc.
Hanging planters come in an array of sizes to choose from. Some are large enough for mid-sized flowering plants but they are best used for vines or trailing plants. You can also use hanging planters for growing herbs. Hang the planters near the kitchen window so you can simply grab the fresh herbs while cooking.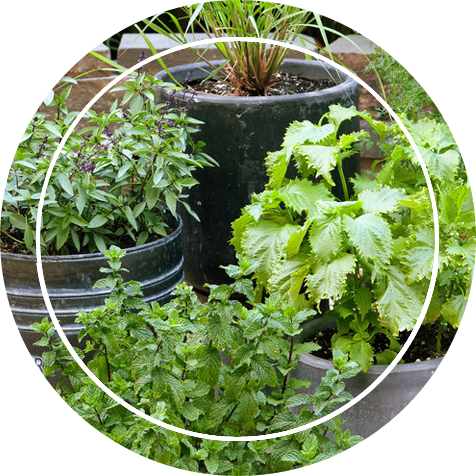 Grow an Herb Garden
Speaking of fresh herbs for cooking, if the idea of growing your own herbs appeals to you then why not build your own herb garden? Most herbs do not grow too big so these plants are perfect for small spaces, indoors and outdoors alike. Just put a couple of potted herbs by the windowsill and start from there. If you have less room to spare, try building a vertical herb garden.
A vertical herb garden is not only space-efficient; it's also a great way of putting your gardening skills on display. You can go online to check for different setups or try our favorite: crafting a vertical herb planter made from driftwood or a wood plank. It's easy.
Start by planting your choice of herbs in mason jars. Install several pipe clamps into a wood plank and fasten the potted plants into the clamps. Set each pot in place by tightening the metal clamp with a screwdriver. Repeat until all the potted herbs are fastened into the metal clamps then hang your herb planter on the wall.
Build a Container Garden
Container gardening involves planting plants in containers. This is a great garden style for people with little to no indoor or outdoor space. Depending on the variety of plants you chose, you can set your container garden outdoors in the balcony or porch or indoors near the window, on empty corners and sunny spots.
Building a container garden is easy; any sunny spot could be transformed into a green oasis. Just transfer your plants in pots, tubs, and half-barrels then arrange the plants in groups. For small spaces, try grouping the plants closer together to save more space.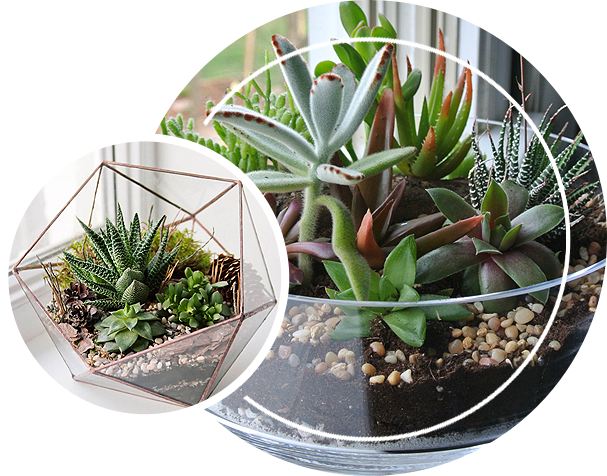 DIY Terrarium
Add a pop of green to your home by making your own terrarium. Terrariums are living decors that you can set indoors or outdoors. These are the perfect solution for space-strapped gardeners. You can make terrariums using decorative glassware, candle jars, or clear tubs.
To make a terrarium, pour an even layer of pebbles at the bottom of your desired container. Succulents and cacti are quite sensitive to excess moisture. The pebble layer helps drain excess water. Cover the pebble layer with a thick layer of potting soil.
Make holes in the soil and start planting the largest plants to the smallest. Terrariums look best when you combine different plant species but make sure to give each plants room to grow. Finish the arrangement with a couple of landscaping decors and you're ready to put your terrarium on display.
 
As you can see, there are so many ways of building a garden in small spaces. Any blank spot can be transformed into a lush oasis as long as you are willing to experiment with different gardening tips and ideas!
Tune in for more gardening tips! Sign up for our newsletter today and enjoy the freshest gardening resources plus fabulous discounts on our bestselling products.